Purpose Talk Radio Guests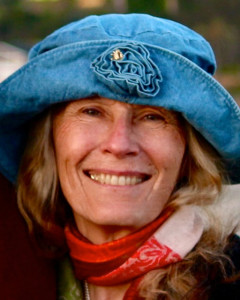 MONDAY, MARCH 25, 2013 – Sharon Hinckley: Heart Opening ~ Completions & Coming Full Circle

"I began my Art Career at the age of 4 by making a very large mural with crayon on the Living Room Wall. For my effort, I was sent to bed without my supper. Most of my critics have been kinder since!!" Sharon Hinckley
Sharon says: I am the original "Baby Boomer"  The "Baby Boom" officially started on January 1, 1946 and I was born on January 12 🙂 For once, I am at the head of the class. I do my own system of numerology however. I simply take my birthday number and add across until I arrive a number I like. This year I am 13! (Well, the system works for me)
I was born in Takoma Park, Maryland. I attended a Quaker School in Washington DC graduating in 1963. I then moved to California to attend Stanford University graduating in 1967. I married Kent Hinckley one day after I graduated. In 1971 I gave birth to our son Bill (Memo) Hinckley. Memo will graduate from Iowa State University on May 10 and is planning to start a second career in Chemical Engineering.
In 1978 we moved to Asia for 5 1/2 years – living in Taipei, Taiwan and Tokyo Japan (where I started an interfaith study group with a Hindu friend) I had no intention whatsoever of being on a Spiritual path. I was after all an atheist from Washington DC!!
However, when I lived in Asia, I spent a lot of time painting in and around the shrines and temples and was of course exposed to the chanting. Since neither my Chinese nor my Japanese is very good my intellect couldn't even interfere with the message contained in those chants. (Spirit can be sneaky!)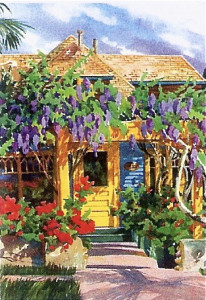 I have had @ 100 one woman shows and exhibitions in various galleries,  Museums and Clubs in the United States and Asia. In 1999, my book Watercolor Basics: Painting Flowers was published by NorthLight Books. Click here to see Sharon's Watercolor Books
on Amazon.
Why stop to just smell the flowers when you can paint them? The instruction in this book makes it fun and easy to create beautiful watercolor daises, hydrangeas, roses, lilies, poppies? all your favorite blooms! You'll find everything you need to get painting right away – from basic exercises in color choice and composition to techniques for painting leaves, background, arrangements and out door scenes. It's all explained in simple language with hands-on exercises, easy-to-follow demonstrations and step-by-step projects!
I also give Watercolor Painting workshops and private painting lessons. I currently give workshops at the Bravo School of Art in San Diego and I give painting classes for the Athenaeum, La Jolla.
In 1999, I became a Registered and Certified Hatha Yoga Teacher @500 hours. In 2005 I also received Instructor Training in the Dahn Yoga Practice. I teach two Yoga classes every week at the La Jolla YMCA Firehouse.
In 2010, I expanded into the Art of Photography with several one woman shows and the publication of The La Jolla Calendar.
I just came back from a 3 week Pilgrimage to India to attend the Kumbh Mela,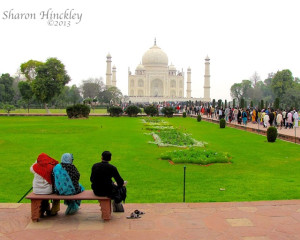 the largest religious festival on the planet.
When I was painting in a rice paddy on Taiwan in 1980, I came to the realization that when I am in the center of my heart that I am connected to the entire Universe. I didn't know what I was supposed to do with that information. I thought maybe I should tell someone. But who? Who would understand?  Was I the first person to discover this? I didn't think so. But who else knew? There was a Water Buffalo in front of me & I shared my new-found knowledge with him. He didn't seem to care. Maybe Water Buffalo aren't into great Spiritual truth?? Or maybe for them it is yesterday's news.
I was also told that I had a very powerful mind and that I was totally misusing it. Well. Thank you for the Data Dump – Instructions on how to use this powerful tool didn't seem to be forthcoming at that moment.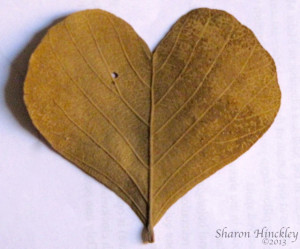 It was almost 33 years to the day after my insight in the rice paddy that I found the heart shaped leaf right after meeting PanditJi on my arrival to the Himalayan Institute Campus near Khajuraho. (Coincidentally PanditJI moved to America 33 years ago)

Connect With Sharon
Website: LaJollaArt.com
Facebook: Sharon HInckley
Connect With Jan
Jan's Facebook page
Email: jan@purposetalkradio.com
Websites:  www.janrevell.com
www.angelparties.org
www.amedicaladvocate.com
CALL IN AND SPEAK LIVE with Jan every Monday at 12 Noon PST, 3pm EST, 8pm UK, and 9pm Germany. (347) 205-9074
CONNECT VIA SKYPE: Go to www.blogtalkradio.com/purposetalkradio. As soon as the show begins, the Skype icon will be available next to the call-in number.
JOIN OUR MAILING LIST by clicking on the link at the right to stay up to date on guests and events and join the ongoing conversations in the Purpose Talk Radio Conversations Facebook Group where you can share your stories and insights.
If you have a question you would like us to answer on the show, simply call the number to the right of this post (347-205-9074) or Skype to connect by clicking on the Skype icon next to the phone number (it will appear once the show begins).
Jan Revell is the creator of Body Linguistics© – a method of reading the body to help better understand your personality, the why of some of your attitudes and behaviors, as well as lessons you want to lean in this lifetime. Your body even has the clues for finding out your purpose in life. How often have most of us asked: "What IS the purpose anyway?"
To learn more about this technique and training courses, visit www.BodyLinguistics.org.
Jan is an Intuitive Coach and Dreamwork facilitator. Clients have expressed profound effects in their lives as a result of working with Jan.
Jan also works with the Angelic Realm to bring you insights and messages from Angels and loved ones who have passed over. Whatever your question or concern, there are those who love you to offer you guidance and/or reinforcement. Sign up for a reading with her at www.purposetalkradio.com/readings. And visit her new site: www.angelparties.org to book your own Angel Party!