Purpose Talk Radio Guests

MONDAY, APRIL 8, 2013 – Shalinie Mahabir: HOW TO CREATE YOUR REALITY OUT OF A SIMPLE THOUGHT


"I trust life not because I trust the world, but because I trust the God who lives in my heart." – Marianne Williamson

Shalinie Mahabir is a published author who lives in Trinidad and Tobago with her husband and children.
Although Shalinie holds a Bachelor of Science Degree in Psychology with minors in Sociology and Human Resource Management at The University Of the West Indies – St Augustine, an ICM Diploma in Human Resource Management, a Diploma in Professional Counseling, an LCCI Diploma in Public Relations and is a Reiki Master, she has chosen to stay home and take care of her children. This choice is something she has been made to feel guilty about over the years. "However," she says, "It no longer bothers me what people think about my decision because it's all about doing what makes you feel happy!"
As a full-time mom since the birth of her first child, she says, "My life has been so busy with so many things going on, I find the best time to write is after 10pm when my kids go to bed and I have quiet time." Shalinie has now published two books, A Life of Abundance Through Intention, and Six Simple Steps to Powerful Meditation for Beginners, both of which are available on Amazon as Kindle books. Shalinie says: "On the second day of the promo, I immediately went from amazon rank of 845,000 (approx) to 1,517 – and made it to the top in two categories (Spiritualism and Self Esteem)." Shalinie will tell us how you, too, can get your book published on Amazon.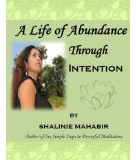 Click on the book photo to find Shalinie's books on Amazon.

Connect With Shalinie
Facebook: www.facebook.com/#!/shaliniem
Email:  shaliniemahabir@yahoo.com OR shellylightlove@gmail.com

Connect With Jan
Jan's Facebook page
Email: jan@purposetalkradio.com
Websites: www.janrevell.com
www.angelparties.org
www.amedicaladvocate.com
CALL IN AND SPEAK LIVE(347) 205-9074
CONNECT VIA SKYPE: Go to www.blogtalkradio.com/purposetalkradio. As soon as the show begins, the Skype icon will be available next to the call-in number.
JOIN OUR MAILING LIST by clicking on the link at the right to stay up to date on guests and events and join the ongoing conversations in the Purpose Talk Radio Conversations Facebook Group where you can share your stories and insights.
If you have a question you would like us to answer on the show, simply call the number to the right of this post (347-205-9074) or Skype to connect by clicking on the Skype icon next to the phone number (it will appear once the show begins).
Jan Revell is the creator of Body Linguistics© – a method of reading the body to help better understand your personality, the why of some of your attitudes and behaviors, as well as lessons you want to lean in this lifetime. Your body even has the clues for finding out your purpose in life. How often have most of us asked: "What IS the purpose anyway?"
To learn more about this technique and training courses, visit www.BodyLinguistics.org.
Jan is an Intuitive Coach and Dreamwork facilitator. Clients have expressed profound effects in their lives as a result of working with Jan.
Jan also works with the Angelic Realm to bring you insights and messages from Angels and loved ones who have passed over. Whatever your question or concern, there are those who love you to offer you guidance and/or reinforcement. Sign up for a reading with her at www.purposetalkradio.com/readings. And visit her new site: www.angelparties.org to book your own Angel Party!