Purpose Talk Radio Guests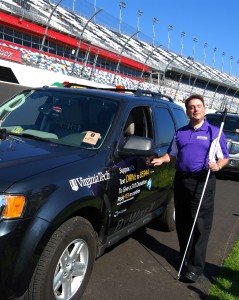 MONDAY, OCTOBER 28, 2013 – Mark Riccobono
"Transforming Dreams into Reality: The Hopes of One and the Power of Many"
Mark Riccobono was born in Milwaukee, Wisconsin. He was diagnosed with glaucoma and aniridia at age five. Nonetheless, Mark attended public schools, graduating with honors while active in debate and track.
Mark earned a bachelor's degree in business administration at the University of Wisconsin-Madison. He became a member of its Iron Cross honor society and was the founding president of the Wisconsin Association of Blind Students. During senior year, Mark was elected president of the National Federation of the Blind (NFB) of Wisconsin.
After graduation, Mark joined the Sears executive trainee program, and spent his free time advocating for the blind. Then he was appointed to the Wisconsin State Superintendent's Blind and Visual Impairment Education Council, and made the first director of the Wisconsin Center for the Blind and Visually Impaired, an agency responsible for statewide services to blind children. Afterward he took a position in Baltimore with the NFB and earned a Masters of Science in Educational Studies from the Johns Hopkins School of Professional Studies in Business and Education.
Mark is currently executive director of the NFB Jernigan Institute—the only research and training institute developed and directed by the blind.  Mark's duties are diverse and complex, and he generally describes them as simply "synthesizing the hopes and dreams of the blind into imaginative programs that advance opportunities and expand the possibilities." He is charged with understanding where the blind want to go and figuring out how to go there even if the resources do not exist today. In January 2011 at the Daytona International Speedway, Mark navigated a car equipped with nonvisual technology for 1.5 miles, demonstrating the first time a blind individual has driven a street vehicle in public without the assistance of a sighted person. In early 2011, the University of Wisconsin Alumni recognized Mark's accomplishments by naming him as one of their Forward Under 40 Award recipients.   In 2010-2011, Mark served as an appointed member of the Federal Commission on Accessible Instructional Materials (AIM) in Postsecondary Education.
Mark is married to Melissa, who is president of the NFB of Maryland. They have three children, Austin, Oriana, and Elizabeth.
Connect with Mark:
Mark A. Riccobono, M.S.ed
Executive Director, Jernigan Institute
National Federation of the Blind
200 East Wells Street at Jernigan Place
Baltimore, Maryland 21230
Phone: (410) 659-9314 ext. 2357
Email: mriccobono@nfb.org
Twitter: @Riccobono
Web: www.nfb.org
Cindy Freeman, Purpose Talk Radio host and creator of Positive News Month and Positive News Day strives to bring guests who have achieved their purpose in life and are wanting to share how they did it and encourage others to do the same thing. She will be launching True Visions Magazine, an online positive news magazine, soon.
Connect with Cindy
Email: cindy@purposetalkradio.com
Facebook:
www.facebook.com/TrueVisionsMedia
http://www.facebook.com/PurposeTalkRadio
http://www.facebook.com/groups/383388928378659/ (Purpose Talk Radio Conversations Group)
Websites:
True Trinity (songwriting trio and creators of PTR theme song "I Am Who I Am": www.truetrinity.com
Positive News Day: www.positivenewsday.com
True Visions Media: www.truevisionsmedia.org
CALL IN AND SPEAK LIVE with Cindy every Monday at 12 Noon PT, 3 pm ET, 8 pm UK, and 9 pm Germany. (347) 205-9074.
CONNECT VIA SKYPE: Go to www.blogtalkradio.com/purposetalkradio. As soon as the show begins, the Skype icon will be available next to the call-in number.
JOIN the ongoing conversations in the Purpose Talk Radio Conversations Facebook Group where you can share your stories and insights about the shows each week and "like" the Purpose Talk Radio page on Facebook to keep up to date on all Purpose Talk Radio events.
If you have a question you would like us to answer on the show, simply call the number to the right of this post (347-205-9074) or Skype to connect by clicking on the Skype icon next to the phone number (it will appear once the show begins).