Purpose Talk Radio Guests
MONDAY, JANUARY 7, 2012 – Jillian Clark; LIVING YOUR TRUE DESTINY

"Whatever it takes to help, to learn, maybe to meet a new friend, to give hope."  Jillian Clark

Jillian Clark is a gifted woman. who promotes and encourages others to walk their own path. She is a visionary, motivator, and educator, as well as founder and CEO of Chix 4 a Cause LTD, a nonprofit organization that helps people fighting cancer with its Gift of Love program, which is also the name of one of her original songs.
A Wisconsin native with a passion for singing, songwriting and playing guitar, Jillian has been singing semiprofessionally for 20 years. Some of her accomplishments include the tree lighting Ceremony in Washington D.C., singing on the stage of the Grand Ole Opry where she won a recording contract, and other venues throughout the United States and Europe. Jillian is a member of True Trinity, the trio that co-wrote the Purpose Talk Radio theme song "I Am Who I Am."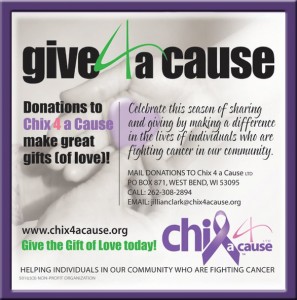 Jillian's business, Handy Womyn Productions offers writing and presenting classes on living one's true destiny as well as other motivational topics for the general public. She also presents continuing education classes on ethics and customer service for insurance professionals.
Jillian says because she walks with trust and faith, she is living her lifetime goal of helping others. She has gained inspiration throughout her life and shares that inspiration with others whenever given the opportunity.
Jillian says she does "Whatever it takes to help, to learn, maybe to meet a new friend, to give hope." Most of all, she wants to put a smile in your heart.
After interviewing Jillian, Jan will offer oracle card and Angel readings for those who call (or skype) in, along with insights and ideas to help you grow in your Soul path. The number to call is (347) 205-9074, or go to www.blogtalkradio.com/purposetalkradio and click on the skype icon (next to the phone number – as soon as the show begins). I look forward to hearing YOUR New Year traditions, your hopes and wishes for the New Year and more!
Are you finding yourself (gifted or challenged) with new and somewhat unfamiliar "talents" (like speaking with those who have passed away, seeing auras, "knowing" things about people, feeling people's energies, etc? Do you know how to protect yourself from being bombarded with energies, to set boundaries (even for those in Spirit form), to go outside your home and not hear other people's thoughts and feel their energies, and to stay centered and balanced in a new paradigm? It's vital that you learn/know how to care for yourself in order to give your best to others. Don't count on "trial by error" as that "error" can be more serious than you think. Jan will teach you powerful techniques for all of these situations (and more),so be sure to contact her for more information on this (jan@purposetalkradio.com).
Jan Revell is the creator of the Lucid Living and Courageous Living courses. Using dream analysis techniques among other methods, Jan's work helps you to live your life fully awake and aware.
Tune in each Monday at 12noon PST, 3pm EST, 8pm UK; call in with your questions and concerns, and learn more about Jan's upcoming events!
Connect with Jan
Facebook: http://www.facebook.com/I.JanRevell
Website: http://www.janrevell.com

CALL IN AND SPEAK LIVE with Jan every Monday at 12 Noon PST, 3pm EST, 8pm UK, and 9pm Germany. (347) 205-9074
CONNECT VIA SKYPE: Go to www.blogtalkradio.com/purposetalkradio. As soon as the show begins, the Skype icon will be available.
Join our mailing list by clicking on the link at the right to stay up to date on guests and events and join the ongoing conversations in the Purpose Talk Radio Conversations Facebook Group where you can share your stories and insights.
If you have a question you would like us to answer on the show, simply call the number to the right of this post (347-205-9074) or Skype to connect by clicking on the Skype icon next to the phone number (it will appear once the show begins).
Jan Revell is the creator of the Soul Body Blueprint Method of reading the body; a gift from Spirit that she has been instructed to offer and teach. To learn more about this technique and training courses, visit www.SoulBodyBlueprint.com. Jan is an Intuitive Coach and Dreamwork facilitator, and she works with the angelic realm. Jan and her guests bring you insights and information to assist you along your Soul path. Here is where you can sign up for a reading and/or coaching session with Jan.