Purpose Talk Radio Guests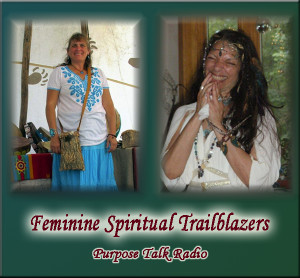 MONDAY, SEPTEMBER 2, 2013 – Feminine Spiritual Trailblazers: Lady Tiana Mirapae and Zelda Hotaling


This is week 12 in a 13-week series of Feminine Spiritual Trailblazers ~ Women who have been and continue to blaze spiritual trails!

If we are to go forward, we must go back and rediscover those precious values – that all reality hinges on moral foundations and that all reality has spiritual control."                       Martin Luther King, Jr.

Lady Tiana Mirapae is a Lover of Life Medicine Woman, Priestess, Jewitch & Teacher of the Healing, Sacred and Magickal Arts. She has been working as a licensed Integrative Psychotherapist, Couples & Sex Therapist for over 30 years and a Wholistic Medicine Practitioner & Shamanic Healer for millennia. Tiana specializes in treating & healing trauma and women's health issues, throughout the life cycle; body, mind, emotions, sexuality, spirit and soul. Tiana is in clinical practice with the Counseling & Gynecology Group in Longmeadow, MA. and in private practice in Hadley, MA. She is a classical homeopath, master herbalist, wholistic nutrition consultant, clinical hypnotherapist, EMDR therapist & consultant and Tapas Acupressure practitioner. Tiana is a Plant Spirit Medicine Practitioner, Wisdom & Earth Keeper of the Munay Ki Rites, and Reiki master.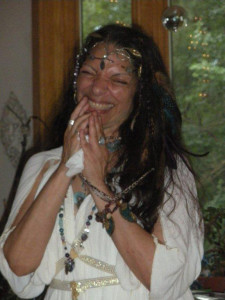 Lady Mama Tiana Sophia is an ordained Priestess of the Well of Avalon and is the Founder and High Priestess of the  SOPHIA Tradition. She is the Director and teacher of The Wisdom School for S.O.P.H.I.A.; training & mentoring Shamans, Oracles, Priests/esses, Healers, Intuitives & Alchemists, on their Spiritual Medicine Path.
HaKohenet Tiana Tovah Bella Mirapae, is an ordained Hebrew Priestess. Her priestess title is: Ma'yan Ahavat Shekhinah; Wellspring of Shekhinah's Love.
The Temple of Sophia, on Goddess Mountain Sanctuary, in Montague, MA., interweaves Earth-based Ritual Magick celebrations and rites of passage ceremonies with tribal Hebrew holydays and Jewish mysticism; honoring the Divine as both Goddess and God; co-creating ancient-new traditions and tribal GoddUs Spirituality for the next 27 generations from now.
"I am the jaguar Medicine Woman risen out of the ashes of Auschwitz, Buchenwald and the Warsaw Ghetto. I am the living Tree of Life, lighting Shabbat candles from the haunting memories of a Chasidic shtetl in Kielce, Poland and the cabarets and classical music concert halls of Vienna, Austria. I am a child of Holocaust survivors; raised in the holy lands of Crown Heights, Brooklyn and Ramat Aviv, Israel. My Jewish lineage goes back through the Diaspora: Russia, Spain, Italy, Greece, Crete, Jerusalem…As a Seeker of the Spiritual, Medicine and Magickal realms, I have journeyed through, studied, applied and taught many traditions, to find healing, enLightenment and transformation. Now, the wisdom and mysticism of my own Hebrew ancestral lineage, enjoined with the sacred teachings of other indigenous holy cultures and Goddess Spirituality, has brought me hOMe to be a Kohenet."
Tiana lives in beauty and bliss, with her beloved partner, Rick Bayer in their woodland paradise. She is blessed with 2 beautiful daughters; Elana and Aviva; 2 amazing grandchildren, 2 adorable puppies: Shlomo & Ohevet, our cat, Moon and is Faerie Goddess Mama/Zaftah to her SpiritHeart family.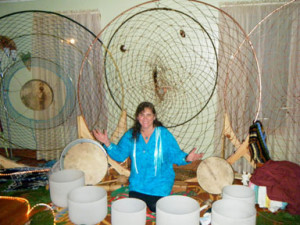 Zelda Hotaling is raised in the Native American Traditions of the Mohawk people, the Haudenosaunee. She grew up on Kahnawaka Reservation in Canada throughout her younger years. This is where Zelda received some of her teachings through the Elders and Creator.
She holds the Sacred sounds with the crystal Bowls, Drums and Rattles. Her dream and vision is being part of the amazing energy shift Mother Earth has manifested!
Calling to all organizations yearning to learn respect, responsibility, love, kindness, fairness, honesty, sharing, spirituality. Only by keeping to this path can we meet our responsibilities to ourselves and one another.
"HEALING CAN COME THROUGH THE PROCESS OF CREATING YOUR OWN SPECIAL PIECE."
I offer many modalities for healing and transformation through Meditation/Discussion Groups,and workshops by creating your dream piece such as a drum, personal shield, rattle or mask, capes, and more. In addition l offer individual intuitive healing sessions by phone or in person. I trust that you will find something that "calls" you to a deeper connection with your spiritual self.
Custom pieces are made upon request and are designed based on your intentions for the creation.
I am guided by Spirit during the creation of your dream.
"I ASSIST PEOPLE IN BECOMING AWARE OF THEIR LIFE JOURNEYS."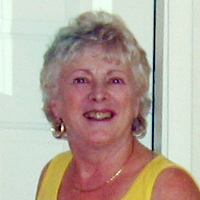 Jan Revell, Purpose Talk Radio host and author of the upcoming book Feminine Spiritual Trailblazers, is excited to bring these amazing women to you in this 13-week series. Jan had the joy of interviewing these 26 women and is proud to bring them and this book to you and the world. (Publication is anticipated for September/October 2013.)

Connect With Lady Tiana
Website: www.tianamirapae.com
Email: Tiana@TianaMirapae.com
Connect With Zelda
Websites:
http://www.zeldahotaling.com
EMAIL: pinetree444@msn.com

Connect With Jan
Email: jan@purposetalkradio.com
Facebook:
www.facebook.com/I.JanRevell
http://www.facebook.com/PurposeTalkRadio
http://www.facebook.com/groups/383388928378659/ (Purpose Talk Radio Conversations Group)
Websites:
www.bodylinguistics.org
www.janrevell.com
www.angelparties.org
CALL IN AND SPEAK LIVE with Jan every Monday at 12 Noon PT, 3pm ET, 8pm UK, and 9pm Germany. (347) 205-9074
CONNECT VIA SKYPE: Go to www.blogtalkradio.com/purposetalkradio. As soon as the show begins, the Skype icon will be available next to the call-in number.
JOIN OUR MAILING LIST by clicking on the link at the right to stay up to date on guests and events and join the ongoing conversations in the Purpose Talk Radio Conversations Facebook Group where you can share your stories and insights.
If you have a question you would like us to answer on the show, simply call the number to the right of this post (347-205-9074) or Skype to connect by clicking on the Skype icon next to the phone number (it will appear once the show begins).
Jan Revell is the creator of Body Linguistics© – a method of reading the body to help better understand your personality, the why of some of your attitudes and behaviors, as well as lessons you want to lean in this lifetime. Your body even has the clues for finding out your purpose in life. How often have most of us asked: "What IS the purpose anyway?"
To learn more about this technique and training courses, visit www.BodyLinguistics.org.
Jan is an Intuitive Coach and Dreamwork facilitator. Clients have expressed profound effects in their lives as a result of working with Jan.
Jan also works with the Angelic Realm to bring you insights and messages from Angels and loved ones who have passed over. Whatever your question or concern, there are those who love you to offer you guidance and/or reinforcement. Sign up for a reading with her at www.purposetalkradio.com/readings. And visit her new site: www.angelparties.org to book your own Angel Party!