Purpose Talk Radio Guests
MONDAY, APRIL 15, 2013 – Rev Edie Weinstein, MSW, LSW,: LIVING A RIDICULOUSLY AMAZING LIFE


"Tell me, what is it you plan to do with your one wild and precious life?" -Mary Oliver
"You were once wild here. Don't let them tame you." -Isadora Duncan
Rev Edie Weinstein, MSW, LSW,is a Renaissance Woman and Bliss Mistress who delights in inviting people to live rich, full, juicy lives. Edie is an internationally recognized, sought after, colorfully creative journalist, interviewer and author, a dynamic & inspiring speaker, licensed social worker, bliss coach & interfaith minister. She speaks on the subjects of wellness, relationships, spirituality, sexuality, creativity, time management, recovery, body image, mind-fullness, self esteem, stress management, re-creating yourself, recovery from trauma, caring for the caregiver, loss & grief. She is a frequent guest on radio & tv & enjoys being on the other side of the microphone.
Interviews include: His Holiness The Dalai Lama, Louise Hay, Dr. Judith Orloff, Arielle Ford, Wayne Dyer, Deepak Chopra, Jack Canfileld, Marianne Williamson, Grover Washington, Jr, Dan Millman, Ram Dass, Olympia Dukakis, Shirley MacLaine, Dennis Weaver, Nell Newman, Ben & Jerry and SARK.

She is the author of The Bliss Mistress Guide To Transforming the Ordinary Into the Extraordinary.
On Sunday, my 25 year old son Adam told me he had a surprise for me on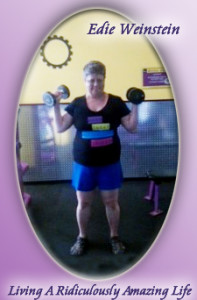 the passenger seat of his car. When I looked in, I discovered a t-shirt with the words Make Today Ridiculously Amazing embellishing it. I laughed since it was a sentiment that I would have been drawn to, had I seen the shirt myself. He suggested framing it "So you can see it everyday." As much as that idea appealed to me, I would rather wear it and make it a billboard for the life I choose to live that I would love for others to embrace as well. The first place I wanted to take it was to Planet Fitness (a.k.a. "The Judgment Free Zone") for my 'playout.' I asked the young woman behind the counter who has seen me pass through those doors countless times in the past two and half years, if she would take a picture for me. She laughingly agreed. That activity which makes this 53 year young woman feel stronger and more flexible and vital than I did when I was her age, was part of my ridiculously amazing day. It also included writing, promoting, listening to music and singing along, scheduling speaking opportunities, sending out proposals and query letters, cleaning, laundry, paying bills, speaking with my dear friend and editor Pam and planning a house concert for my friend Heidi Cooper. Oh, and a pedicure which was exactly what my slightly sore legs and tootsies needed post gym time.
On the surface, nothing over the top grand or glorious, but bubbling underneath were undercurrents of delight. I love the idea of being led intuitively from one activity to the next and sometimes (much more lately) no activity, just periods of rest. Although there are 'have to's' in my life, just like yours, there are also 'get to's', which are treats such as hanging out with kindred spirits, meeting way cool people, discovering new thoughts, stretching my concept of what life is really worth. There are days when I'm not sure where I am being led and I just hafta trust that it will bring light and love, and when at the crossroads, I will know which way to turn. Even if I am not 100% certain what specifically awaits me, I do know this for sure….it will bring awe and wonder and deep amazement.
So, what ridiculous amazement do you have in mind and heart for yourself today?
This information was provided by Beliefnet.com, the distinct online resource for inspiration and spirituality where you'll find thousands of inspiring features, uplifting stories and access to other great resources.
© 2012, Beliefnet. All rights reserved.
Read more: http://blog.beliefnet.com/blissblog/2012/07/ridiculously-amazing.html#ixzz2OJknxOsI
Edie is the host of It's All About Relationships on Vivid Life Radio at www.vividlife.me  which airs each Thursday night at 8pm EST.
Connect With Edie
Facebook: www.facebook.com/pages/Bliss-Mistress/148542401825646
Website: www.liveinjoy.org

Connect With Jan
Jan's Facebook page
Email: jan@purposetalkradio.com
Websites: www.janrevell.com
www.angelparties.org
www.amedicaladvocate.com
CALL IN AND SPEAK LIVE(347) 205-9074
CONNECT VIA SKYPE: Go to www.blogtalkradio.com/purposetalkradio. As soon as the show begins, the Skype icon will be available next to the call-in number.
JOIN OUR MAILING LIST by clicking on the link at the right to stay up to date on guests and events and join the ongoing conversations in the Purpose Talk Radio Conversations Facebook Group where you can share your stories and insights.
If you have a question you would like us to answer on the show, simply call the number to the right of this post (347-205-9074) or Skype to connect by clicking on the Skype icon next to the phone number (it will appear once the show begins).
Jan Revell is the creator of Body Linguistics© – a method of reading the body to help better understand your personality, the why of some of your attitudes and behaviors, as well as lessons you want to lean in this lifetime. Your body even has the clues for finding out your purpose in life. How often have most of us asked: "What IS the purpose anyway?"
To learn more about this technique and training courses, visit www.BodyLinguistics.org.
Jan is an Intuitive Coach and Dreamwork facilitator. Clients have expressed profound effects in their lives as a result of working with Jan.
Jan also works with the Angelic Realm to bring you insights and messages from Angels and loved ones who have passed over. Whatever your question or concern, there are those who love you to offer you guidance and/or reinforcement. Sign up for a reading with her at www.purposetalkradio.com/readings. And visit her new site: www.angelparties.org to book your own Angel Party!